Marxist ideas were very attractive to intellectual utopians. One of the primary architects of the horrors of the Khmer Rouge, Khieu Samphan, received a doctorate at the Sorbonne before he became the nominal head of Cambodia in the mid-1970s. In his doctoral thesis, written in 1959, he argued that the work done by non-farmers in Cambodia's cities was unproductive: bankers, bureaucrats and businessmen added nothing to society. Instead, they parasitized the genuine value produced through agriculture, small industry and craft. Samphan's ideas were favourably looked upon by the French intellectuals who granted him his Ph.D. Back in Cambodia, he was provided with the opportunity to put his theories into practice. The Khmer Rouge evacuated Cambodia's cities, drove all the inhabitants into the countryside, closed the banks, banned the use of currency, and destroyed all the markets. A quarter of the Cambodian population were worked to death in the countryside, in the killing fields.
~ Jordan B. Peterson,
12 Rules for Life: An antidote to chaos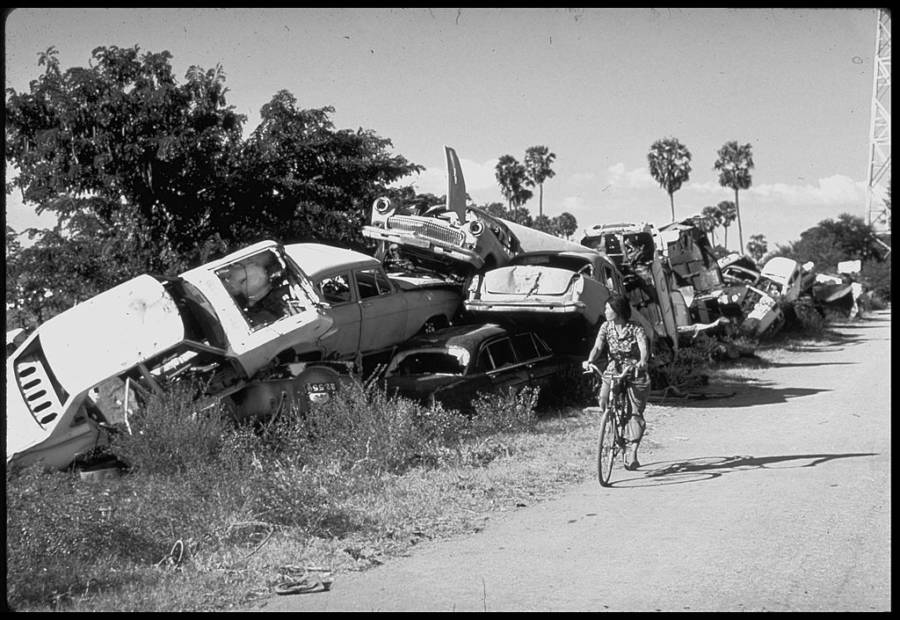 A woman rides a bicycle by a stack of destroyed cars, cast aside by the Khmer Rouge as a symbol of the bourgeoisie.
Phnom Penh, 1979